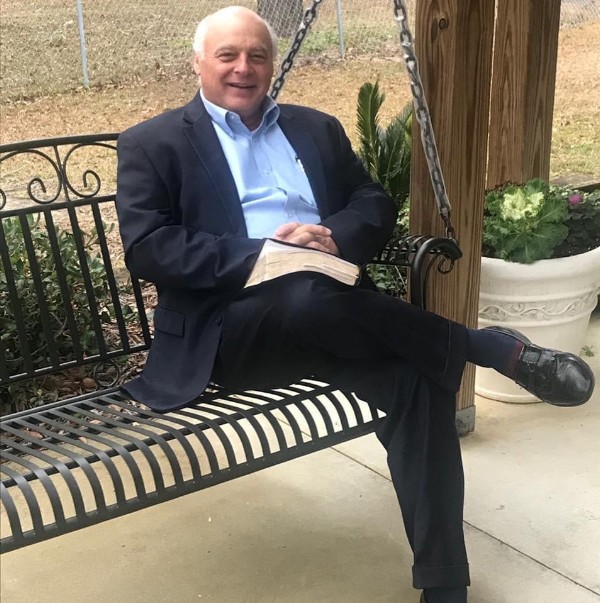 WHAT A JOY TO SERVE THE LORD!!!!
I am honored to have you visit our site and even more honored to have you in our services. Calvary Baptist is a place where people are themselves and Jesus is the Lord of all. You will not find any big "I's"and little "you's" here. When you visit, you are a welcomed guest.
The blessing of pastoring this Church grows with each passing day. Having been raised in Pensacola and knowing of Chattahoochee since I was old enough to remember, I never thought one day I might live here. My grandmother used to tease us boys when we would not behave by telling us we were going to wind up in Chattahoochee. (Look Grandma, you said it!) I left Pensacola in 1985 and headed to Bible College. I went to Mt. Airy, North Carolina where I attended White Plains Bible Institute. Our Pastor there, Dr. Carl Lackey, was the founder and Chancellor. Like many people, I had difficulty seeing the Ministry as being more than my Jerusalem. It was at White Plains that I began seeing the big picture and the harvest fields were everywhere.
In 1988, I began to Pastor a little Church in Wadesboro North Carolina. There was a fine facility there but only six people holding it together. The Church grew and I made all the dumb mistakes a man could make as a Pastor. I thought I knew it all, while all the while knowing very little. It was in Wadesboro though that I learned the heart of missions. The Lord allowed us to actively help a Church in Reynosa, Mexico. I have had the privilege of preaching several revivals there. God protected that church from a young, headstrong preacher and it is still shining a light for Jesus today.
Later years brought me to the prison ministry as a Chaplain. The inmates were an education, but so was working in the State prison system. During all of this, God was allowing the bumps and pitfalls of life to mold a self-centered man into some semblance of a Pastor.
The first Sunday in April of 2001, I began as the Pastor of a 75 year old Church called Center Baptist Church in a far out of the way place called Candor, North Carolina. It too was a distressed Church with few members and sagging, age old facilities. But the people there fell into the work behind their Pastor and within ten years God had changed that place into a thriving Church with all new or renovated facilities. We were in the middle of building a new sanctuary when I heard of Calvary Baptist Church in Chattahoochee. I never thought we would ever leave all our children in North Carolina and move, but the Lord changed our hearts! The dedication service for the new sanctuary was held on May 21st, 2011, and my last service there was May 23rd, 2011. Then, I was Florida bound.
The last Sunday in May of 2011, I preached my first sermon as the Pastor of Calvary Baptist Church in Chattahoochee. I've discovered once again, God knows more than anyone could possibly imagine. I'll not be shy to say that God has had to take this rebellious preacher down to the brook more than once to bring me to where I am today. There is also no shyness in saying that all the times I had to go to school at the brook; I believe God had His mind on Calvary Baptist in Chattahoochee. It is a pleasure to be here and even greater is the pleasure to be right where God planned for me to be.
My wife, Vera, works from our home and tends to the preacher. Without her I would be at witts end and much less of a man, even lesser of a preacher. We have six children and twenty two grandchildren. There is much I could say about our family, but, I'll leave it at this; if all the knowledge I had of our children was just to have made their acquaintance in this life, I would have counted it a Blessing. But to have them as Family, what a miracle!!!
I hope and pray to serve this community as best I can, but especially you, the members of Calvary Baptist Church. I am looking forward to the rest of our lives in service to the Great God of Heaven and His Son, Jesus Christ.
Preacher Mark